What you need to know




What you need to know about CPD

As an ACCA member you are required to participate in ACCA's CPD programme from 1 January of the year following admittance to membership.

No matter which CPD route you follow you need to submit a CPD declaration by 1 January each year or you risk being removed from membership.

Select a question from above.
What is CPD?
CPD refers to the learning you do
to develop or maintain the knowledge and skills
you need to succeed in your career as a finance professional.
The most important thing to focus on is
relevance
to your current role and your career ambitions.
What counts as CPD?
Any
learning activity
can count as CPD as long as it is
relevant
to your current role or future career aspirations.
CPD examples:
e-learning (webinars, courses, podcasts, online articles)
learning at work
face-to-face courses
working on committees/panels/discussion groups
undertaking research
additional qualifications
coaching and mentoring
networking
publications and technical articles
Visit the

CPD for members

section of the ACCA website for a great range of learning resources available to help you acquire CPD.
How much CPD do I need to do?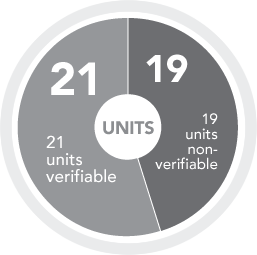 1 hour of learning or development = 1 unit of CPD
Following the unit route you are required to complete:
40 relevant units of CPD each year
Of these,
21 units need to be verifiable
19 can be non-verifiable

A learning activity is verifiable if you can answer "yes" to the following three questions:
was the learning activity relevant to your career or future career aspirations?
can you explain how you will apply the learning in the workplace?
can you provide evidence that the learning took place?
If you have undertaken general learning which is not related to a specific outcome, or is difficult to corroborate, it is likely to be non-verifiable CPD.
What evidence do I need to keep?
Unit route/part-time/semi-retired
comprehensive evidence of your verifiable CPD units
a record of the your non-verifiable CPD units
a record which shows why you chose the learning activity, what you have learnt from it, and how you have/will apply the learning.
keep this evidence for three years – it may be required as part of ACCA's CPD review process.
a summary of non-verifiable CPD
evidence of the verifiable CPD undertaken with an explanation as to why it is a relevant and appropriate amount
evidence of the number of hours worked and confirmation that you are not working in a role that doesn't fall under the policy guidelines.
evidence to show that your verifiable CPD was relevant and meaningful to your specific development needs
To help you, ACCA has developed a CPD evidence checklist that you may wish to use to demonstrate why the activities you undertook were sufficient for your needs (Evidence button below).
ACCA approved employer route
evidence of your employment
evidence of your participation with your employer's development and appraisal processes.
*ACCA reserves the right to confirm your activity with your employer.
evidence of your membership with the other accountancy body
evidence of participation with their CPD requirements.
*If the other professional body has successfully reviewed your CPD evidence records, you should also keep a copy of the outcome letter. ACCA may ask for a copy of the outcome letter or alternatively a full set of evidence you have kept for the other professional body.
You can download

evidence examples and tools

to assist you in retaining evidence and for guidance as to what will be required by ACCA. They are also useful in terms of helping you think about what activity you could undertake, and when it would contribute to your verifiable CPD requirement.
Members holding practising certificates must maintain competence in their areas of technical specialism, and obtain an appropriate proportion of CPD in those areas.

Read more

.
You can make your declaration online by logging in to

MyACCA

and following the link to

Annual CPD declaration